Our RoSée Connection – about a special connection
In summer 2012 we decided: We will make ONE Rosé! One that has never existed before, one that is perfect pairing with dishes, one that is long-lasting but also fresh and suitable for all occasions. Of course this didn`t work out.
By the way not working out… Beforehand we had a tasting evening and the topic was the wide range of still Rosé wines. To find out what`s going in Austria, we bought the 12 best-selling Rosés. The result was not really joyful: Some we liked or we understood the winemaking qualities of the producers, but actually nothing blew us totally away.
Finally we literally just did the Rosés we like by ourselves. In autumn we puzzled a lot, tasted, tried and during the winter we created three Rosé wines. Because also with Rosé it is not possible to put three different styles into one bottle. But as we need some Bubbles as well, our Puntini followed in 2016 which is a Petillant Naturell (Pet Nat). And for fans of dessert wines we created Espirito, an Austrian Rosé-Port-Variation.
You can find all wines including descriptions on our website https://markusaltenburger.com/en_GB/weine/
All wines from the RoSée Connection have in common that we defined plots where we use these grapes from especially only for these wines. The location is an important aspect. We adjusted the time of harvest and foliage work for the aim of making high-quality Rosés. Most of the Rosés we harvest from lime-rich clay soils with a great water supply to have juicy wines. Only Witzbold is allowed to have sparseness.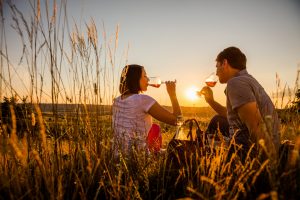 Why actually RoSée Connection? The writing of RoSée an allusion of the Neuslieder Lake. An Connection? Because the series has been created through the special connection between Bernadette and Markus Altenburger. This is the result when a word acrobat and a winemaker are doing wine together.
But the easiest is if you have a look at our Video about the RoSée Connection including beautiful early summer shots. Just click on the picture below. But it is in German. And if you really want to experience it, just get the Rosé-Set with all our current Rosés. Don`t worry about the mix of vintages: you don`t need to drink Rosé in the first year…