Markus Altenburger weiß PRICKELND - pearls with no regrets
We are making a mess instead of adulterate wine.
When it fizzles and splashes in February it means that it is time to disgorge.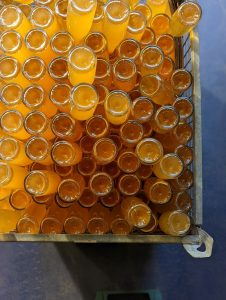 Since a couple of years, we are working closely with sparkling wines. We are trying different methods of bottle fermentation to find the right one for us. Under the motto "Sparkle without regrets" one part of the Markus Altenburger white is doing a bottle fermentation, where we do not add a mix of sugar and yeast to the wine, but our own fermenting most aka grape juice. This is going to make these beautiful bubbles in your glass.
The idea to the wine came kind of accidentally. During vintage 2019 we had a young friendly sommelier working with us and as a welcome we tried every barrel in the cellar. He has a big passion for Pet Nat and as I was asking him if he like a specific barrel he just answered, "Could we make a Pet Nat out of it?". An so we did it and it definitely paid off. The gentle aromatics of Traminer brought us the depth and fruit, which we were looking for.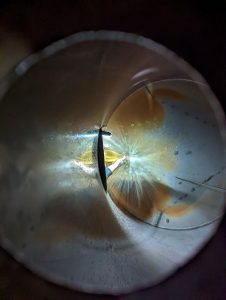 With this year we did the disgorgement by ourselves, it is always a huge party and the whole team gets excited for it. At first, we place the bottles upside down so that the tartaric acid and the yeast can wander down into the neck of the bottle. A couple days later we gently open the downward facing bottle and with the pressure from the fermentation the tartaric acid and the yeast splash out of the bottle. After all the foam is gone, we fill up the bottle with another bottle, close it again, put nice labels on them and place them in the box.
We do not add sugar or sulphur during the disgorging. Just sparkle without regrets.
Hier geht's zum Online-Shop: www.jungenberg.at