JOIS 2018 – Cuvée Altenburger
As a young winemaker I got the chance to try and drink a lot of Bordeaux and of course, it stayed in my mind also if my own wines developed in a different direction.
These crazy luxurious slightly puffed-up world with its perfectly prim and proper chateaus or so called chais and their never-ending rows of barriques is the landmark of the world of fine wine.
Every unusual weather condition will be looked at closely and everything from the budding until the flowering critically eyed to document the exact time to deduce the scoring and price in- or decreases.
What has all this to do with our JOIS?
You can learn one thing from the Bordeaux wineries. If you disregard the second wines, which will often be made from grapes of young vines, the wineries make just one wine. You put all cards on the table and can't let yourself allow a bad barrel, because this would have the effect of a weak limb on a chain. Consequently, every vineyard has to be managed with the same engagement and every grape has to be treated with the same carefulness.
That's how it is also going here with another similarities:
For instance, the grape variety: Cabernet Sauvignon and Merlot make up 60% of the cuvée, the other 40% are (of course) Blaufränkisch.
There are some parallels concerning the ageing: the first one and a half years the wine ages in barriques and the last one and a half years in bigger oak so that the wine get more harmonic.
The outfit: the so-called Bordeaux bottle is consciously chosen for only this cuvée.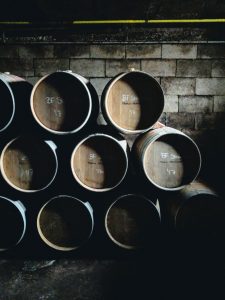 JOIS 2018 – Cuvée Altenburger is a timeless wine. Not only because it was aged for three years in the barrel it also comes with a storability and ripening potential, but also because its style did not devote to the current trends, just like the predecessor in the last 15 years. A clear expression of the vineyards in Jois with a big enjoyment factor.
JOIS 2018 – Cuvée Altenburger is the last vintage which will be bottled, for now.