Neuburger betont. 2019
Our Neuburger is definitely something special and many times the first:
It was the first wine I macerated on the skin in 2009 and it was the first wine I filled into a concrete egg in 2014. And it will be the first wine from vintage 2019 which we bring on the market not with a "written" label, with a "real" label.
In Spring 2016 we had the first wines with the "wiping" labels. It was planned as a one-time thing, but then we decided to have this series for our whole range. This year we will change the wines step for step to the new design. All designs are made by ourselves through hands dipped into wine depot and then wiped, printed or lubricated.
The start is made again by our Neuburger. He deserved a special design which also symbolizes the vessel where he is aging in: The concrete egg is not only giving the name, also the special form is visible on the label.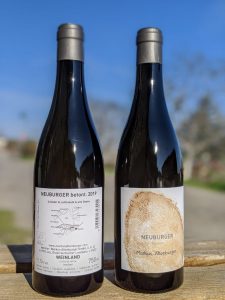 About the vinification:
We hand harvested end of August with an alcohol of 11,5% from our vineyards Gritschenberg which is rich in limestone and slate based Buschenberg. The skin maceration took 5 days and after pressing, the juice went for fermentation and aging into the concrete eggs. We bottled mid-March with a minimum amount of sulfur and without filtration. The annual amount is less than 3000 bottles!